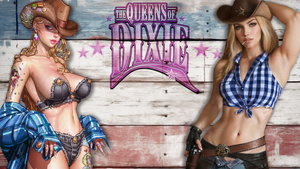 Starts Tomorrow!!!
You loved Jinkies, made Jessi Zombie Hunter a HUGE HIT, due to your support we're able to create our next title QUEENS OF DIXIE!!

The Daisy Girls, Laura and Beth, love to tear up the countryside in The Southern Belle! Deputy Roslin Colt is constantly trying to bring them to justice. When she fails to stop them from getting up to no good. Big Boss Lady has to step in!!
Follow along to see what kinda trouble two beautiful buxom young ladies from The South can get up to in the pages of Queens of Dixie!!